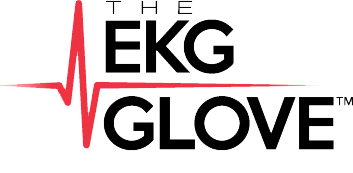 Diagnostic,
12-Lead ECGs
in 2 minutes…
every time.
Minimize Time, Maximize Accuracy
All-in-One Design
Built-In lead wires attached to pre-positioned electrodes help ensure correct lead placement on the chest wall and eliminates the chance of lead wire reversal
Disposable
Latex-free, single-use materials control the risk of cross-contamination
Flexible
One cable connects The EKG Glove™ to ECG devices in almost any care setting especially where time-efficient patient triage is critical – EMS, ED, ICU/CCU, Remote locations
Fully-Shielded, Radiolucent
Diminishes risk of electromagnetic interference (EMI) and facilitates X-rays whenever and wherever required
Latex-free,
disposable materials
promote hygienic,
infection-free testing
Built-in circuitry
prevents lead
wire reversal
and errors
Single cable connection to
existing ECG machines and
portable devices
Pre-positioned electrodes
standardize application
and minimize prep time.
RA, LA, LL
electrodes are
clearly identifiable
and extendable
Efficient Application with Minimal Training
The EKG Glove™ is US FDA-cleared, bears the CE-Mark certifying EU approval, and is CFDA-approved for clearance in China.